Finance: Mortgage and Insurance Policy Sourcing
Acre adopts Luthers platform for Deep Process Automation at scale to automate the complex mortgage and protection sourcing process.

Introduction
Buying a new home is one of the most significant decisions a person can make. Yet, the mortgage sourcing process remains slow, opaque and fragmented. For this reason, over 70% of people choose to rely on a broker to source and apply for their mortgage. However, the sourcing process remains a complex one which currently takes several months to complete and the customer experience increasingly falls short of expectations. Acre Software is on a mission to simplify the way we buy houses. They are reimagining the end-to-end mortgage sourcing process by combining their deep industry knowledge with modern technology, to provide an informed and satisfying consumer experience. Acre is working with one of their customers, Sesame Bankhall Group (SBG), a subsidiary of Aviva plc., to provide its product to a large network of brokers with over 10,000 financial advisors in the UK and facilitate  42B in 1 mortgages annually.

Process Complexity & Problems
The mortgage and insurance sourcing process is done at an immense scale. In 2018 the FCA reported2 that there are about 50,000 people in the UK approved to advise consumers on their mortgage. SBG alone facilitated £42 billion in mortgage completions in 2018 representing 230,000 mortgages across 10 products. The process involves siloed participants working on separate steps for several months. Bespoke documents are created and multiple data formats are exchanged between the various participants and organisations. Despite this being a long-standing industry process, there remains little to no automations of scheduling and running of tasks nor a common view of rules and data. As a result these teams spend a considerable portion of their time performing manual tasks and reconciliations. Participants do not have visibility over where they stand along the end-to-end process nor have a common view of status or execution history. This lack of visibility and of standardisation across processes, documents & connectors leads to a lack of flexibility and ability to quickly adjust to changes in regulations or market demands.
Furthermore, a specialised team is required to review the process and all its documentation to verify that it is compliant with current regulations. In practice, the immense number of cases and the high complexity means that individual cases are reviewed by exception only, and that only a small percentage of sourcing journeys can be individually reviewed.
Compliance issues are often identified by this team late in the process cycle and lead to costly and lengthy reconciliations needed to be carried out. Ultimately, this complexity leads to low customer satisfaction, prolongs the processing times and results in high costs, some passed on to the end customer & some borne by the company.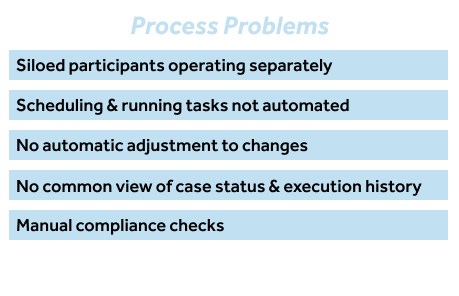 Solution
Building the world's best mortgage and insurance sourcing process, best for end consumers and best for industry participants, required automation that could handle the inherent complexity of a multi-entity process involving hundreds of people. It was equally important that the new process could be built and maintained by Acre's own developers and subject matter experts and updated easily when regulations changed. This was far beyond the scope of traditional workflow automation technology which provides process automation for workflows with tens of tasks and one or two separate operational participants.
Furthermore, connecting and coordinating multiple instances of workflow automation presents a number of challenges, including much longer development time, far less efficient code, limited permissioning for different users, limited visibility, and maintenance overhead.
This is why Acre used Luther's LEIA platform to automate and operate the mortgage and insurance sourcing process. Luther's LEIA platform provided Acre with the operating system to run the process while providing the rails for orchestrating, executing and monitoring their complex workflows. It also gave them the development tools to achieve rapid development times.
Together Acre and Luther developed a new product that uses Deep Process Automation to:
Bring together all parts of mortgage application process into one unchangeable 'record of events'
Express the sourcing journey into a single business process script (smart contract)
Consolidate consumer, property, product, criteria and consumer preference data into a complex but detailed and standardised data model
Incorporate compliance rules at each step of the workflow
Connect multiple legacy systems to a common platform and script (smart contract)
In order to develop this product, Luther worked with Acre's subject matters experts to prepare detailed process maps and identify all the participants involved:
Acre brokers
Verification agencies (Equifax for credit checks)
Mortgage aggregators
Mortgage lenders
Banks
Each of these participants plays a specific role in the end-to-end mortgage process which can be seen as a series of logical tasks and business rules. The participants continue to use their local systems (e.g. Lender system, Equifax's credit check tool, etc…) which are connected to the common network via APIs and Oracles. While every participant remains free to shape their respective operations internally and to decide how to best perform their duties, the Acre product ensures that all participants share a common script (smart contract) running on a network of blockchain peers for critical interdependent process steps. These scripts act as guardrails for operations while leaving a transparent & tamper-proof trail for auditability.
The Acre product utilises Luther's compliance by design capability, which provides its users with execution certainty and the systemic assurance that the process is executed as per custom compliance rules. In the case of Acre, the compliance rules developed were bespoke to the Mortgage Advisory industry. For example, the FCA publishes and maintains a set of regulatory guidelines for UK brokers to adhere to. Some of these regulations readily translate into objective instructions (e.g. IF this THEN that) whereas others leave room for interpretation. Working with SBG and subject matter experts, the Acre and Luther team followed a rigorous process to turn somewhat subjective guidelines into objective executable programs:
The regulatory guidelines were studied with Acre and SBG industry experts to extract a pool of both subjective and objectives guidelines
All guidelines were then turned to logical instructions that leave no room for interpretation and approved by industry experts
These logical instructions were finally developed as programmable scripts (smart contract) for the Acre product to execute

Results
The new services provided by Acre and enabled by Luther System's technology have seen astounding success so far. The overall workload has significantly reduced for both the independent brokers using the platform and the compliance teams where manual checks have been virtually eliminated. As a result independent brokers who switched to the Acre product have been able to handle 33% more cases per month. Due to the integration with Acre's CRM system, they have also continuously generated cross-sell opportunities, encouraging sales of insurance products to end consumers. Compliance teams no longer rely on periodic random sampling & instead achieve compliance coverage, reducing non-compliance risks and their operating cost reductions.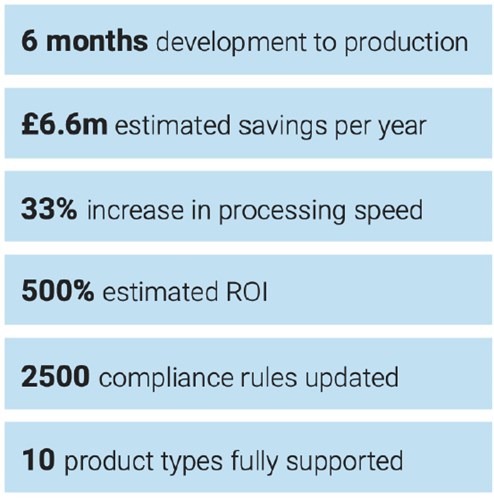 The simplified delivery of compliance services to their mortgage network is estimated to save £6.6m a year. More recently, Acre has also started working with Directly Authorised (DA) brokers, delivering the same kind of outcomes to their internal compliance teams who no longer need to interpret regulatory guidelines. With Luther's reliable tech powering its product, Acre is set to accomplish its mission of simplifying home buying. Please find a demo of the solution here demoing a user journey for a broker creating and completing a mortgage application (case) on Acre's platform. A demo of the full Acre product is also available here.